"We cannot thank you all enough for your love, care and utter devotion to my dear mum. I still can't believe she's gone but you all helped so much to make her life so comfortable and I know she loved you all. I will miss you."
"Prestige Care & Support have been caring for my mum for nearly two years now. I can honestly say a huge amount of worry and stress has been lifted from my shoulders because the care she receives from them. All of the carers do a fantastic job and they actually care about my mum. They treat her with kindness and dignity and also respect her fully. They make her laugh all the time which also makes me feel happy. They are not only fantastic with her they help me too with little things that are a huge help to me. You will not be disappointed with this wonderful agency."
- Mrs L B
Here are some of our happy guests talking about us
Even though we try our best, it isn't always possible to care for the ones we love as much as they deserve. There are times when we need care givers for elderly care services. These are the times when we come to your rescue.
"I feel I can trust you and your team when it comes to caring for my wife"
"You and your team have taken the necessary time and made the effort to build a rapport with me and my wife treating us with dignity and respect. As well as being reliable and dependable, I feel I can trust you and your team when it comes to caring for my wife. Knowing that you are flexible also makes life much easier when dealing with the unexpected. This really does reduce stress levels and is important for ensuring the best quality of life for both of us during these difficult times"
"Please accept this gift as a token of my appreciation and thanks for all you did for my mum. We were so lucky to have such a wonderful and reliable team of carers"
"Natasha shows an inherent passion for caring (in our case for the elderly and vulnerable) and understands the importance of maintaining a secure and stable environment. She is a capable and adaptable lady - we can only wish her and her team every success and happiness.
"We have found all of your team to be highly professional, ethical, moral and very likeable - they are a joy to have in our home and the daily (4 x visits) personal assistance and laughter and friendship have become an essential part of the day."
"I cannot recommend Prestige care and support highly enough, they are an excellent agency who are extremely professional and yet so caring, they always have that extra bit of time for the client, all the carers are brilliant especially Julie, Sue and Kelly, whose kindness has no boundaries, I rely on the carers totally every day and they never disappoint. Natasha is such a great carer herself and has a fantastic team providing care and support to the client". - Mrs J W
"Excellent Service my carer builds me up and makes me laugh throughout the call and I love the chats we have. Much better than my last company." Mrs P J
"Prestige Care & Support gives the best possible care, everyone is friendly, caring and nothing is too much trouble for our carers and you are all very supportive". - Mrs E W
"The carers are lovely and make me feel good when they visit." Mrs R H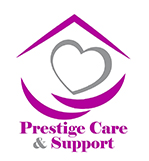 Believing and Achieving in Care