"A care agency with a heart - the carers genuinely care for their clients nothing is too much. Keep up the good work girls!"
- Michele Joanne Oxlee
Only the very best care services for your loved ones. Call Prestige Care & Support Ltd on
01708 760727
Dedicated to providing the very best care service
At Prestige Care & Support Ltd, we have dedicated care workers who are experienced, trained and fully qualified. We work together as a team to help improve the quality of life for people with care needs throughout the Borough of Havering. We know and understand how important it is for our clients to stay as independent as they can be and we are here to help support you by designing a tailor made package.
Tailored care
When deciding on the care package, we consult our experts, the person involved and their family members. That way we respect your choice, keeping what's best for you in mind. This enables you to be as independent as you wish.
Constantly improving service standards
Our carers are fully trained and understand how important it is for our clients to see a friendly face, someone who will treat you with respect, dignity and allow you to make your own choices. Our carers are here to help you stay as independent as you can be while living in the comfort of your own home.
Looking to care for those in need?
At Prestige Care & Support Ltd we are always seeking to recruit the highest calibre of staff to join our friendly team to support the ever expanding care industry in Havering.
If you feel you have the right skills to become a part of our team, delivering care and support to those in need, join us today.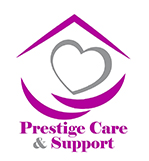 Believing and Achieving in Care